[Hi everyone, Lili, Utopia State of Mind, here. I just wanted to say that Louise has been such a great friend from the very beginning. I can't even remember blogging beforehand, because even last year Louise was involved! I love repeat occurrences, we've got a bunch of those this year – and that couldn't make me more overjoyed. Reminder to go check out Foxes Fairytale]
When Lili first got in contact about doing a guest post about representation I was super excited to get involved and to read everyone else's thoughts on the topic. So, without further ado…
Characters Which Represent Something Close To Me.
When I was thinking about this, the first thing that came to mind was how — when I was an actual YA — I honestly don't remember reading a single book with a queer woman in it? At all. The only queer rep I even knew about was that Mercedes Lackey had a gay protagonist, but that the story was really sad. Thank goodness for the internet and fan culture, right? In particular, it's taken years for me to find realistic bisexual women — where being bi isn't just code for being evil and/or 'the seductress'.
Three bi girls that I've really loved recently are: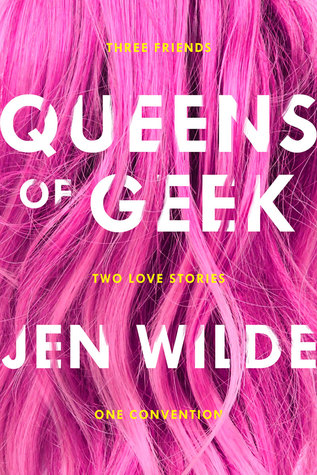 Tory from Into the Drowning Deep by Mira Grant
Ersel from The Seafarer's Kiss by Julia Ember
Charlie from Queens of Geek by Jen Wilde
Representation I'd Love To See More Of.
As for rep I'd like to see more of, I'd like more queer women in general and specifically more sapphic relationships. There's been a lot of discussions lately of how hard it is to sell/promote FF books so I thought I'd highlight a few upcoming/ recent releases which  I'm really excited about.
The Queen of Ieflaria by Effie Calvin [Feb 19]
Out of the Blue by Sophie Cameron [March 22]
Ship It by Britta Lundin [May 1st]
Girls of Paper and Fire by Natasha Ngan [October 23rd]
Outrun the Wind by Elizabeth Tammi [November 27th]
Don't Forget the Giveaway
Discussion
What's your favorite book with queer representation?
Share this post